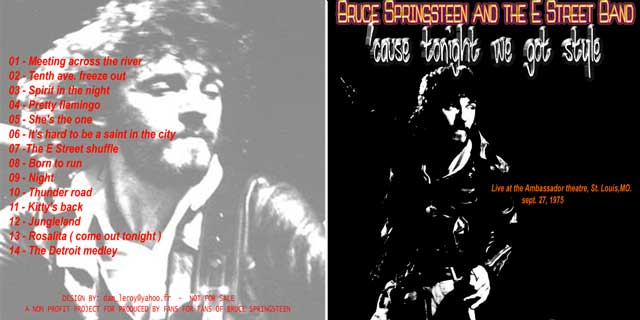 This is another very old bootleg from almost forty years ago.
The has been recorded during the Born To Run on September the 27th 1975 at Ambassador Theatre in Saint Louis.
The quality of the CD's are quite good especially considering the technology available in late '75.
SETLIST
DISC 1
Meeting Across The River 

Tenth Avenue Freeze-Out
Spirit In The Night
Pretty Flamingo
She's The One
It's Hard To Be A Saint In The City
The E-Street Shuffle
DISC 2
Born To Run 

Night
Thunder Road
Kitty's Back
Jungleland
Rosalita
The Detroit Medley
Unfortunately the Detroit Medley is not complete.
An alternative recording for this show is available  but, in my opinion, the quality is lower.