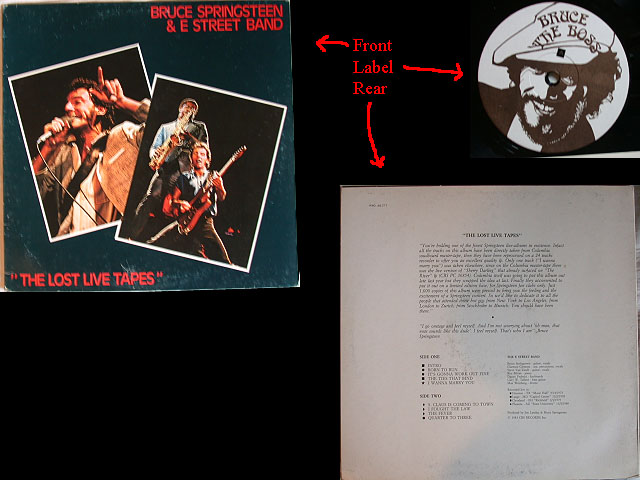 This bootleg was originally an LP and it is a collection of various songs played by Bruce Springsteen and The E-Street Band between 1975 and 1980.
The bootleg has a very good average quality.
TRACKS
DISC 1
Intro (Largo 02.11.2980)
Born To Run (Houston 14.09.1975)
Its Gonna Work Out Fine (Largo 02.09.1975)
The Ties That Bind (Largo 02.11.2980)
I Wann Marry You (Tempe o5.11.1980)
DISC 2
Santa Claus Is Coming To Town (Cleveland 01.01.1979)
I Fought The Law (Cleveland 01.01.1979)
The Fever (Cleveland 01.01.1979)
Quarter To Three (Houston 14.09.1975)
NOTES
Welcome to my torrents of shows taken direct from some of the 1000+ bootleg LPs that i have collected over the past 35 years.
I have kept the running order of the shows true to how they appear on the LP.
I have not altered the recordings in any way except De-clicking where it was needed.
I have kept them has Side 1 – Side 2 etc but made the transition seemless where possible between the different side's if you play the whole file in a player like
foobar2000 etc.
Linage :- Boot Lp – Project Record Deck – Yamaha Reciever – Phono Leads Into PC Soundcard – Nero Wave Editor –
Wav – Tracks split – Traders Little Helper – Flac8 – SBE Checked – You.
Bruce Springsteen – The Long Lost Tapes – Various Live 1975 – 1980 ( From LP ) ( DAVROSLP018 )
Title : LOST LIVE TAPES (THE)
Support: 1 LP
Matrix: 43330
Producer: Unknown
Vinyl: Black
Notes
1000 copies. Two photos on front, track details and a (false) story of the album on rear. "Boss" caricature labels. PRO AS 271 is stated as part number on rear and on side. Some sources report the PRO AS 271 release as a repress, but I think this may actually be the same release of the original.
Hope you enjoy the show!
As usual please only convert to mp3 etc for you own use only / Please keep all the file names / fingerprints etc as they are and most of all DO NOT SELL – keep trading alive by giving away or trading etc.