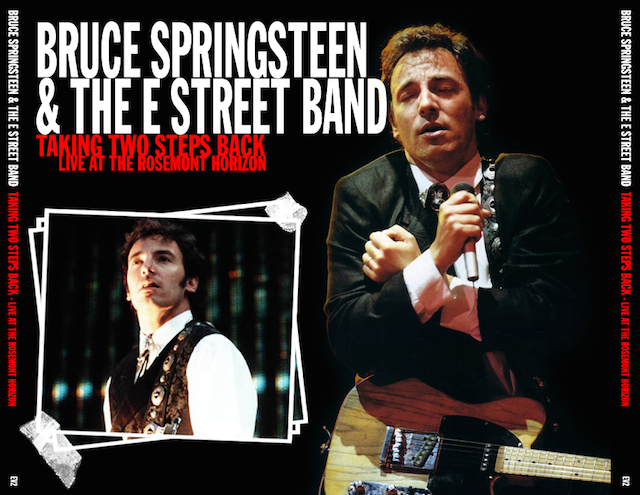 This bootleg was recorded on March 16th 1988 in Chicago during the first night of the Tunnel Of Love Tour.
Bruce Springsteen and the E-Street Band played 28 songs.
SETLIST
DISC 1
Tunnel Of Love
Be True
Adam Raised A Cain
Two Faces
Here She Come Walking
All That Heaven Will Allow
Seeds
Roulette
Cover Me
Brilliant Disguise
Intro / A Woman Fighting That Fight
Spare Parts
War
Born In The U.S.A.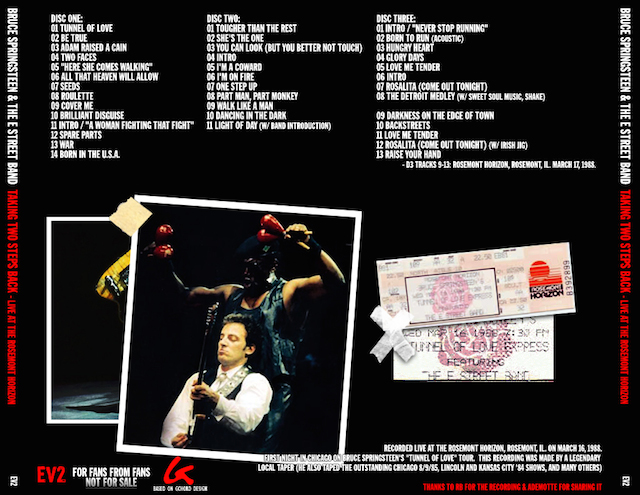 DISC 2
Tougher Than The Rest
She's The One
You Can Look
Intro
I'm A Coward
I'm On Fire
One Step Up
Part Man, Part Monkey
Walk Like A Man
Dancing In The Dark
Light Of Day
DISC 3
Intro / We Never Stop Running
Born To Run (acoustic)
Hungry Heart
Glory Days
Love Me Tender
Intro
Rosalita
The Detroit Medley
Darkness On The Edge Of Town – bonus from Second Night
Backstreets – bonus from Second Night
Love Me Tender – bonus from Second Night
Rosalita – bonus from Second Night
Raise Your Hand – bonus from Second Night
NOTES
"Comments: First night in Chicago on Bruce Springsteen's "Tunnel of Love" tour. This recording was made by a legendary local taper (he also taped the outstanding Chicago 8/9/85, Lincoln and Kansas City '84 shows, and many others) and was seeded on DaD a few months ago. Since that version had some skips in it, and since I think this sounds a shade better, I thought it would be worth seeding." – ademotte