I have just discovered this Born In The U.S.A. Tour bootleg, it has been recorded on April 19th 1985 in Kyoto.
Bruce Springsteen and the E-Street Band played in Japan 8 concerts in 13 days during the Born In The U.S.A. Tour.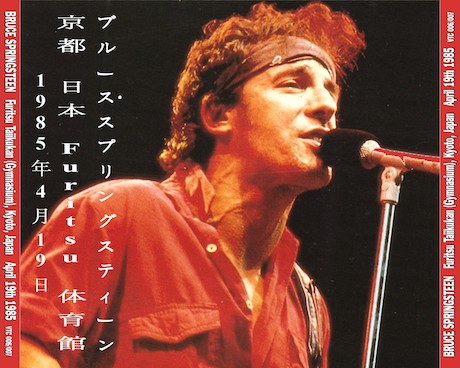 The bootleg contain the 24 songs played on that night.
TRACKS

DISC 1
Born In The U.S.A.
Badlands
Out In The Street
Johnny 99
Atlantic City
Intro
The River
Working On The Highway
Prove It All Night
Glory Days
The Promised Land
Intro
My Hometown
Thunder Road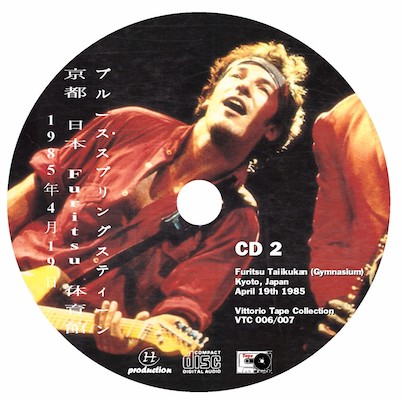 DISC 2
Cover Me
Dancing In The Dark
Hungry Heart
Cadillac Ranch
I'm On Fire
Intro
No Surrender (acoustic)
Bobby Jean
Rosalita
Intro
Born To Run
Ramrod
Crowd
Twist And Shout / Do You Love Me?
Outro
NOTES
Bruce Springsteen and The e Street Band
Title: N/A
Label: VTC (Vittorio Tapes Collection)
Catalog #: 006/007
Source: Audience
Format: 2 CDR
Total Time: 2 hour 31 minutes 31 seconds
Location: Furitsu Taiikukan (Gymnasium), Kyoto, Japan
Date: April 19, 1985
Lineage: Cassette Tapes Maxell UL Type I Normal Position -> Technics Double Cassette Deck RS-TR555 -> Transfert with cable on CDR with Philips Audio CompactDisc Recorded CDR760 -> EAC (Secure) -> wav -> Nero Wav Editor -> wav -> THL -> Flac (level 6) Align on Sector Boundaries.
Include: md5 (wav/flac), ffp, Frequency-Spectral Analysis, Artwork, Info file and Par2 Recovery Files at 10%.
very Good Sound
Transfer by Vittorio, Editing by hrubesh
From Brucebase:
Audience tape released on CD 'Come Out Tonight'. This 23-song set is the complete show.
Thanks to Vittorio for this rare tape.
Hope you Enjoy
hrubesh