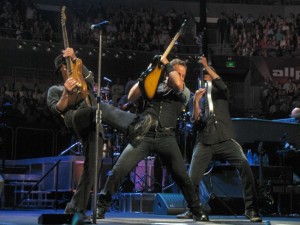 This is the setlist of the final concert in Sydney for Bruce Springsteen and E-Street Band (First Night Setlist – Second Night Setlist).
SETLIST
1. We Take Care of Our Own
2. Wrecking Ball
3. Night!!
4. Death To My Hometown
5. Hungry Heart
6, My City Of Ruins
7. Growin' Up
8. The E Street Shuffle
9. Prove It All Night
10. Trapped
11. The River
12. Pay Me My Money Down
13. Working On the Highway
14. Darlington County
15. Shackled & Drawn
16. Waitin' On A Sunny Day
17. Backstreets
18. The Ghost of Tom Joad
19. Badlands
20. Thunder Road
21. Born In the USA
22. Born To Run
23. Dancing In The Dark
24. Tenth Avenue Freeze-Out
25. Rosalita (Come Out Tonight)
Now Wrecking Ball Tour will move in Melbourne for two shows (March 24th and 26th).