Probably this is not the best bootleg of the Born To Run Tour but the overall quality is quite good.
Bruce Springsteen and the E-Street Band played 14 songs.
TRACKS
DISC 1
Night
Don't Look Back <— listen
Spirit In The Night
It's My Life <— listen
Thunder Road
Mona
She's The One
Tenth Avenue Freeze-Out
Action In The Street
Backstreets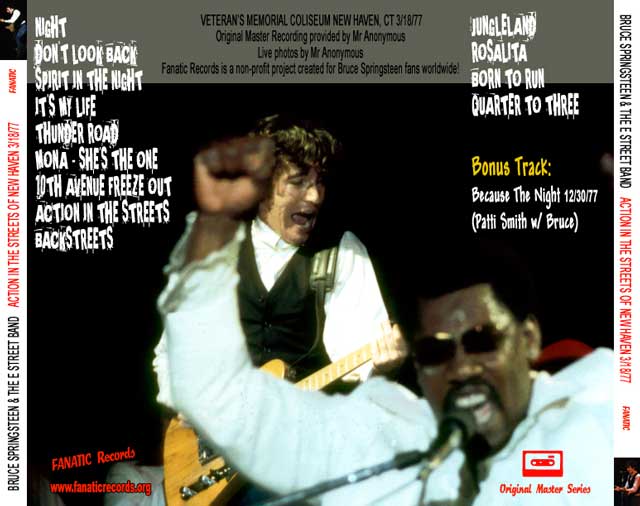 DISC 2
Jungleland
Rosalita
Born To Run
Quarter To Three
Because The Night <— listen
NOTES
Bruce Springsteen & The E Street Band Action In The Streets Of New Haven
Original Master Series
Veteran's Memorial Coliseum- New Haven, CT
March 18, 1977
Audience Recording
Cassette>CDR>Roxio>flac
The "Original Master Seriesî is made possible by Mr Anonymous. According to BruceBase previous circulating copies were missing the first 2 tracks. To the best of my knowledge this complete version has not be made available to the majority
of fans. Some EQ work was necessary to made the sound a bit brighter, since the recording was made from the back of the room.
Overall not a bad recording to have. To sweeten up the set, included is a bonus track of the world live debut of Because The Night with Patti Smith and Bruce at CBGBs in New York on December 30, 1977.
Fanatic Records in association with Mr Anonymous is proud to share this original master recording with Bruce Springsteen fans worldwide!