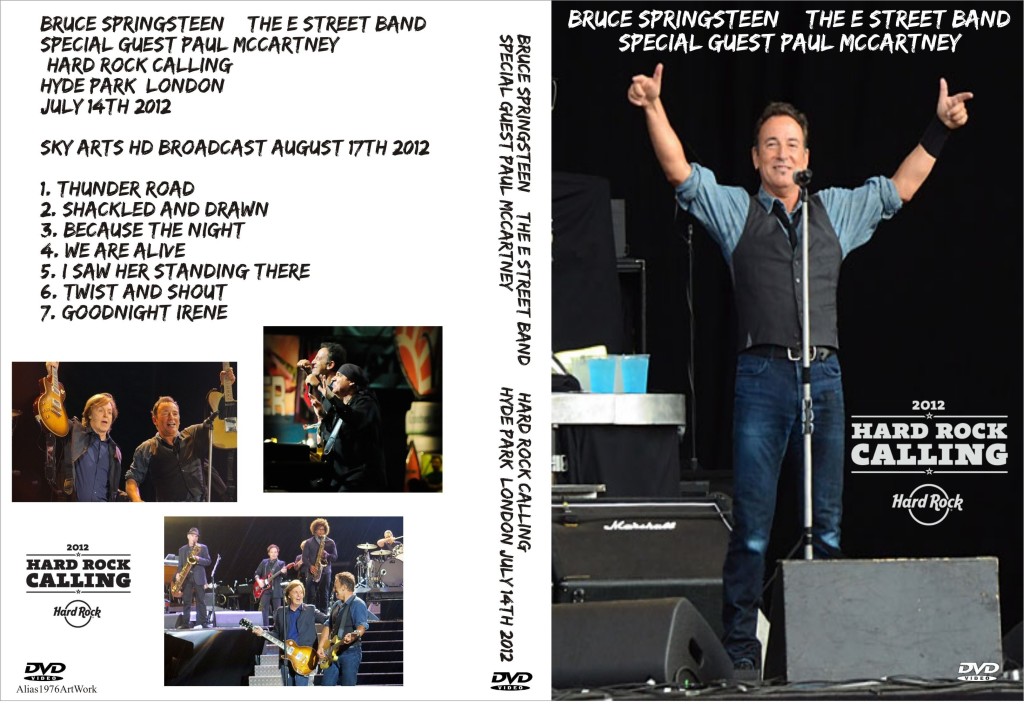 Bruce Springsteen and the E-Street Band played at the Hard Rock Calling Festival in London on July 14th 2012 during the first European leg of the Wrecking Ball Tour.
These seven songs have been broadcasted by Sky Arts in August 2012.
TRACKS
Thunder Road

Shackled And Drawn
Because The Night
We Are Alive
I Saw Her Standing There
Twist And Shout
Goodnight Irene
During the duet with Paul McCartney on Twist And Shout the power were cutted off for curfew time already passed.
NOTES
Multiavchd File (See Above Notes) > TMPGEnc Video Mastering Works >
TMPGEnc Authoring Works 4 > Video TS
Glitches Fixed at 01:48, 12:24, 19:54, 21:09, 22:51
(These are not perfect but a big improvement)
Start and End Faded In and Out
VIDEO: PAL, 25 fps, 720×576, 16×9, 9130 kbps
AUDIO: AC3, Stereo, 48000 Hz, 384 kb/s
JTT, August 2012
ORIGINAL SOURCE:
Video BDAV 14.5Mbps 1920×1080 (16:9) at 25fps Mpeg 2 TS AVCHD
Audio 384Kbps 48Khz 16bit 6 channel AC-3
Lineage Sky Arts HD > CCcam > DVB-S 2 > TS > HDD >Videredo to Trim > Multiavchd