Thousand Footprints In The Sand is the title of this bootleg of Bruce Springsteen and the E-Street Band recorded on April 28th 1988 during the Tunnel Of Love Tour.
The bootleg is splitted in three CDs and includes these four bonus songs:
Happy Birthday, Roy 23.04.1988
Walk Like A Man 22.04.1988
Backstreets 23.04.1988
Detroit Medley 22.04.1988
Thousand Footprints in The Sands
TRACKS
DISC 1
 Tunnel Of Love
Be True
Adam Raised A Cain
Two Faces
Intro
All That Heaven Will Allow
Seeds
Roulette
Cover Me
Brilliant Disguise
Intro
Spare Parts
War
Born In The U.S.A.
DISC 2
Tougher Than The Rest
Ain't Got You
She's The One
You Can Look (But You Better Not Touch)
I'm A Coward
I'm On Fire
One Step Up
Part Man Part Monkey
Across The Border Line
Dancing In The Dark
Light Of Day
Born To Run (acoustic)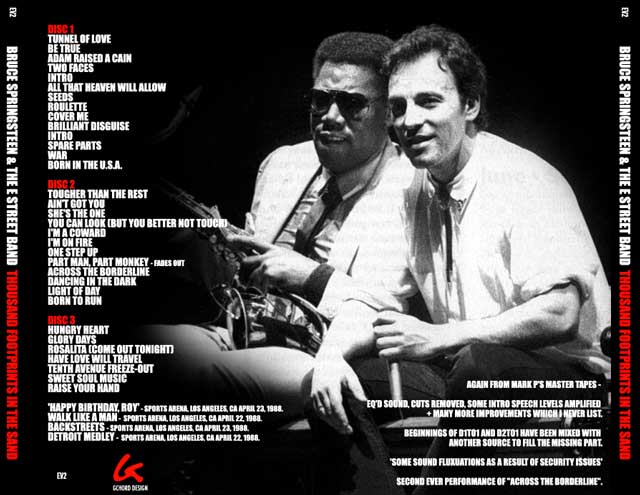 DISC 3
Hungry Heart
Glory Days
Rosalita
 Have Love Will Travel
Tenth Avenue Freeze-Out
Sweet Soul Music
Raise Your Hand
Happy Birthday, Roy
Walk Like A Man
Backstreets
Detroit Medley
NOTES
A few line from Ev2
Again from Mark P's master tapes – EQ'd sound, cuts removed, some intro speech levels amplified + many more improvements which I never list.
Beginnings of D1T01 and D2T01 have been mixed with another source to fill the missing part.
'Some sound fluctuations as a result of security issues'Second ever performance of "Across The Borderline". Thanks to Mark for the great source and Gchord for the artwork.